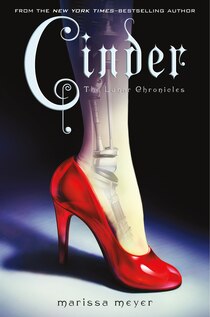 Picture from Chapters. ca
Genre: Young Adult, Sci-Fi
Format: Hardcover (387 pages)

Publisher: Feiwel & Friends
Publication Date: January 3rd 2012
Rating: 5/5
Source:
Library Loan
Get a Copy at
:
Chapters
|
Amazon
|
Barnes & Nobles
Summary from Goodreads:
Humans and androids crowd the raucous streets of New Beijing. A deadly plague ravages the population. From space, the ruthless lunar people watch, waiting to make their move. No one knows that Earth's fate hinges on one girl. . . .

Cinder, a gifted mechanic, is a cyborg. She's a second-class citizen with a mysterious past, reviled by her stepmother and blamed for her stepsister's illness. But when her life becomes intertwined with the handsome Prince Kai's, she suddenly finds herself at the center of an intergalactic struggle, and a forbidden attraction. Caught between duty and freedom, loyalty and betrayal, she must uncover secrets about her past in order to protect her world's future.
What I think:
When I started this book, I was a bit skeptical about the quality of writing. However, after a few chapters, I was hooked! The beginning was slow, I have to admit, but with a lot of twists in events, this story is very captivating.
The character development was fascinating with the main character, Cinder. However, I wish the author goes more in depth with Peony. Although Peony is such a dreamer, that she is annoying at times, you can't help be love her. As for Andri and Pearl, I dislike them but in a way like how they make Cinder's characters. However, the main issue I have with this story is that the name given to certain character is not very original or matched the character background. Prince Kaito (Kai), really?! This is such as Japanese origin name and not anything of "New Beijing".
Anyways, the end of the story was a big cliffhanger that is making me want to read the next installment.
。・:*:・゚`☆、。・:*:・゚`★*。・:*:・゚`☆、。・:*:・゚`★*。
Quotes:
"Imagine there was a cure, but finding it would cost you everything. It would completely ruin your life. What would you do?"

"Vanity is a factor, but it is more a question of control. It is easier to trick others into perceiving you as beautiful if you can convince yourself you are beautiful. But mirrors have an uncanny way of telling the truth."
。・:*:・゚`☆、。・:*:・゚`★*。・:*:・゚`☆、。・:*:・゚`★*。
About Marissa Meyer