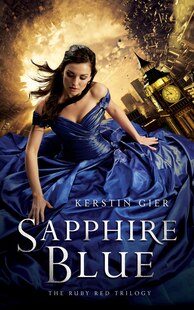 Genre
: Young Adult, Romance, Fantasy, Time Traveling
Format: Paperback (354 pages)
Publisher: Square Fish
Publication Date: May 28, 2013
Rating: 2.5/5
Source:
Bought
Get a Copy at
:
Chapters
|
Amazon
Summary from Goodreads:
Gwen's life has been a rollercoaster since she discovered she was the Ruby, the final member of the secret time-traveling Circle of Twelve. In between searching through history for the other time-travelers and asking for a bit of their blood (gross!), she's been trying to figure out what all the mysteries and prophecies surrounding the Circle really mean.
At least Gwen has plenty of help. Her best friend Lesley follows every lead diligently on the Internet. James the ghost teaches Gwen how to fit in at an eighteenth century party. And Xemerius, the gargoyle demon who has been following Gwen since he caught her kissing Gideon in a church, offers advice on everything. Oh, yes. And of course there is Gideon, the Diamond. One minute he's very warm indeed; the next he's freezing cold. Gwen's not sure what's going on there, but she's pretty much destined to find out.
What I Think:
I decided to give this Trilogy another chance after I saw this book on sale at the local bookstore. Like many of the second books in a trilogy series,
Sapphire Blue'
s was rather slow, yet eventful. There are lots of questions raised while reading this book and I was looking forward to have those questions answered.
Sapphire Blue
started off where
Ruby Red
left off, sort off. The relationship between Gwenyth and Gideon (the male lead) was still unclear at this point. There was not a build up of characters relationship and in terms of character development, there were close to none. Gwenyth's character did grow and developed a little bit as the reader can relate to the things she was going through and sympathized with her, but it was mostly her motives that kept me wanting to read more. Gideon's character on the other hand, was still flat as ever. I wasn't sure of his motives till the very end where there was a slight twist of his characters which I
HOPE
the author will explained it more in the last book in the trilogy,
Emerald Green
. Otherwse, I think Gwenyth's character was poorly developed - I mean do girls that age act that way? Love and hate relationship between the lead female and the lead male is rather cliche don't you all think?
As for Lucy and Paul, I enjoyed how the book started with them and also ended with them. It keeps the readers wondering what is going to happen to them and I hope there will be more explanations about them once I read Emerald Green, cause their mysteries are still unsolved to the characters at this moment.
Although the plot has potentials, which is solely the reasons why I am even reading this book, I felt that I would have enjoyed it more if the author described and put more effort into character development. I mean the side characters are flat as ever. There was an introduction to new characters which I felt was important to the story and to the main character, Gwenyth, there were much explanations as to
why they are there
.
Since I already read the second book, I might as well read the last book. Although the rating is still the same as what I gave
Ruby Red
, 2/5, I will add 0.5 for slight character development and I hope the author explains and don't let out any loose ends on the last book.
SIDE NOTES:
I watched the movie, Sapphire Blue, although a lot of things were change to make the movie adaptation, I enjoyed the movie much more because the character isn't THAT flat. So i recommend people to watch it.
。・:*:・゚`☆、。・:*:・゚`★*。・:*:・゚`☆、。・:*:・゚`★*。
Quotes:
"The raven red, on ruby pinions winging its way between the worlds, hears dead men singing. It scarce knows it strength, the price it scarce knows, but its power will arise and the Circle will close.
"The lion-as proud as the diamond bright,
Though the spell may be clouding that radiant light-in the death of the sun what's amiss will then mend, while the raven is dying discloses the end."

。・:*:・゚`☆、。・:*:・゚`★*。・:*:・゚`☆、。・:*:・゚`★*。
About Kerstin Gier
Website | Goodreads