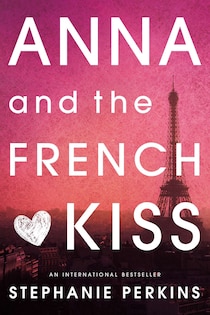 Picture from Chapters.ca
Genre: Young Adult, Contemporary, Romance
Format:
Hardcover
(
372 pages)
Publisher: Dutton
Publication Date: December 2nd 2010

Summary from Goodreads:
Anna is looking forward to her senior year in Atlanta, where she has a great job, a loyal best friend, and a crush on the verge of becoming more. Which is why she is less than thrilled about being shipped off to boarding school in Paris - until she meets Etienne St. Clair: perfect, Parisian (and English and American, which makes for a swoon-worthy accent), and utterly irresistible. The only problem is that he's taken, and Anna might be, too, if anything comes of her almost-relationship back home. As winter melts into spring, will a year of romantic near - misses end with the French kiss Anna - and readers - have long awaited?
Anna and The French Kiss
was an adorable and cute novel. I felt so giddy and bubbly after finishing the book. Yes, it was THAT heartwarming.
The story start off with Anna being shipped to Paris, France for boarding school by her Nicholas Sparks-like father in hopes for her to acquire experience with other culture. On her first night at her new school, Anna was discovered by Meredith (dorm room neighbor) when she was having a homesick crisis/breakdown in her room. Later, she bumped into Étienne St-Clair, perfect "French" boy after leaving Meredith's room and that's when the all firework started.
Stephanie Perkins's writing style definitely reminds me of Meg Cabot. It is charming, funny, clean and light. Each chapter were beautifully crafted and flowed really well. The characters were intriguing and realistic yet not too cliché and corny compared to most contemporary romance that I have read. I especially love the small drama that occurred with Anna and Étienne as it did not went overboard. The amount of teenage angst is the story is appropriate and carefully place in the right place.
I really enjoy how Stephanie Perkins described Étienne, such typical and stereotypical French boys. It is realistic in a way because most Parisians are dressed and act like that. I felt like the author did wonderful job in researching about the lifestyle of France. Anna's French teachers at her school totally reminds me of my teachers at my French elementary and high school. They act so similar! Also I can't help but relate Anna's father to Nicholas Sparks and his work such as The Notebook and A Walk To Remember. Is it only me?

Overall, Anna and the French Kiss was definetly a good and quick holiday read. I recommend to everyone that is interested in lifestyles of France.

Random Rambling (click below):
A big wave of nostalgia hit me when I was reading the book and made me missed France even more.
L
When Anna was describing the streets of Paris, the Cafes, La Seine and Notre Dame, I felt like I was actually transported back in time when I went to Paris for two weeks as exchange students. I remember those night life at La Seine and how the bakeries on the narrow street emitted scents of freshly baked croissants and baguette the morning. And finally, I miss the French cuisine. It's just not the same as the French Cuisine here in Canada. Actually, it is similar when I was living in Québec city but now I live in the most
Asian
English part of the country.
Rating:
★
★
★
★
★