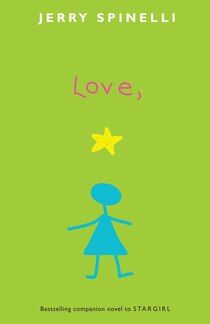 Picture from Chapters.ca
Genre: Teen, Realistic Fiction, Romance, Contemporary
Format:
Paperback
(288 pages)
Publisher: Random House Teen
Publication Date: April 28th 2009
Rating: 5/5
Source: Library Loan
Summary from Goodreads:
Love, Stargirl picks up a year after Stargirl ends and reveals the new life of the beloved character who moved away so suddenly at the end of Stargirl. The novel takes the form of "the world's longest letter," in diary form, going from date to date through a little more than a year's time. In her writing, Stargirl mixes memories of her bittersweet time in Mica, Arizona, with involvements with new people in her life.

In Love, Stargirl, we hear the voice of Stargirl herself as she reflects on time, life, Leo, and—of course—love.
What I think:
Oh my goodness. Words cannot describe how much I adore this book. I read the prequel,
Stargirl
, ten year ago in English Lit class back in elementary school. I didn't know there was a sequel until couple days ago, when I saw this book on the shelf at the local library. Anyways,
Love, Stargirl
continues where
Stargirl
left off, except with a year gap between the prequel. The layout of the book is in diary/letter format, similar to The Princess Diaries series. Over the course of a year, Stargirl (real name Susan Caraway) wrote about her adventures in her new town to her old boyfriend, Leo. It was a bit odd seeing everything in Stargirl's perspective to be honest (prequel was in Leo's perspective). In the prequel, Stargirl was an enigma, a bit mystery. However, in this book, she is just a normal girl which is a big contrast to her character in the previous book.
All the characters mentioned in the book is important and I felt that they each have an important role in the story. I loved every single one of them. To me, they were all real. The important message that Spinelli is conveying is that, no matter what age you are, it is perfectly acceptable to be to be different which a lot of us forgets. I can relate to this story based on personal experiences and I guess that is why I felt so connected with the protagonist. In a way, it is hard to be different in today's society because we are "programmed" by the media on how to act, think, and dress.
The thing I love about Spinelli's writing is that he shows, but not tell. Thus, it was very easy to imagine the scenes that Spinelli has painted with his words such as the "Enchanted Dessert" to the "Calendar Hill".
Everything in book was magical, enchanting and inspiring. The ending was extraordinary and everything wrapped up in a nice, big and shiny bow. Spinelli, you never ceased to amazed me with your words.
I wish I can write more about the book, but like I said, words cannot describe how breathtaking this story is. You just have to read it to feel the magic. I recommend everyone to read the first book,
Stargirl
, first before reading this book because it will certainly make your reading experience that much better.
Rating:
★
★
★
★
★