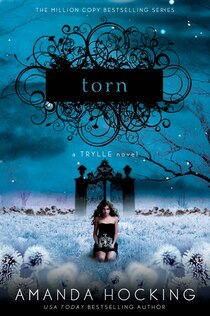 Picture from Chapters.ca
Genre: Young Adult, Romance, Fantasy
Format:
Paperback
(
324 pages
)
Publisher: St. Martin's Griffin
Publication Date: February 28th 2012
Rating: 4/5
Summary from Goodreads:
When Wendy Everly first discovers the truth about herself—that she's a changeling switched at birth—she knows her life will never be the same. Now she's about to learn that there's more to the story…

She shares a closer connection to her Vittra rivals than she ever imagined—and they'll stop at nothing to lure her to their side. With the threat of war looming, her only hope of saving the Trylle is to master her magical powers—and marry an equally powerful royal. But that means walking away from Finn, her handsome bodyguard who's strictly off limits…and Loki, a Vittra prince with whom she shares a growing attraction.

Torn between her heart and her people, between love and duty, Wendy must decide her fate. If she makes the wrong choice, she could lose everything, and everybody, she's ever wanted…in both worlds.

As a special gift to readers, this book contains a new, never-before-published bonus story, "One Day, Three Ways," set in the magical world of the Trylle.
What I think:
Again, I was hesitant to pick up the series because of the cheesy and
cliché line on top of all three book in the trilogy. Surprisingly, I really enjoyed the book.
Torn
was a fast paced book which, like the first book, I have managed to finished it within 6 hours.
There seemed to be a lot that was happening. Although, it was confusing at first, the explanations slowly seeped out and the I was able to have a better grasp on the characters and their situation. I understood everyone so much better than the first book. Each chapter was full of actions and dramas that the events were so easy to dive into. The flow was way better than Switched. However, similar to Switched, everything that was important happened till the very end which I am a bit peeve on. Since it was for setting up for the sequel, I guess this way sort of work.
Everything settled down perfectly. I really like the character developments in this book. Everyone seemed to have a purpose. Although the story was pretty predictable (about the whole Wendy and Loki thing) after reading the extra insert from the first book, I still think the story was so cute.
Torn did not have a strong opening as in Switched, but it just flowed really nicely as if I did not change book. Some places were a bit sudden, however, they are expected in a fast pace book.
I am currently reading the third book. So far so good. It still difficult to grasp the timeline that the story take place. It just so weird that it's cross between Romeo and Juliet and the Princess Diaries. Like modern and old at the same time. OH. I'm happy that the author is a fan of Jerry Spinelli (author of Stargirl) too, a hint that she dropped in the beginning of the story =).